Trip.com
Corporate Profile
Trip.com provides one-stop travel booking services in 19 languages through their website and mobile app.

They are a part of the Ctrip Group, a NASDAQ listed company since 2003 (NASDAQ: CTRP) with over 30,000 employees and over 300 million members, making it one of the leading online travel agencies in the world.
With more than 1.2 million hotels in 200 countries and regions, Trip.comhave built an extensive hotel network to give their customers a fantastic choice of accommodation.
Their far-reaching flight network has over 2 million individual flight routes connecting more than 5,000 cities around the globe. Combining this with their 24/7 customer service team speaking multiple languages via phone, email, or directly through their mobile Trip.com app. You can trust them to take care of your next trip.
The Trip.com website is operated by Ctrip.com (Hong Kong) Limited, ("Trip.com"), a Hong Kong entity duly incorporated and registered in Hong Kong. Trip.com is part of the Ctrip Group of companies. Trip.com is licensed under the Travel Agents Ordinance under license number 352367.
No matter where in the world you want the go, Trip.com has got you covered. From flights and hotels, to rental cars and attraction tickets, their extensive network connects you with all corners of the globe.
If in Australia, to learn more about Trip.com visit the Australian Trip.com Website here: https://au.trip.com
Trip.com Facebook, Trip.com Twitter, Trip.com LinkedIn, Trip.com App
Ctrip.com Boosts Global Drive With Name Change to Trip.com
China's leading online travel site operator has proposed changing its name from the current Ctrip.com to Trip.com, reflecting its ambitions to become more active in a global market where it is already competing directly with international players like Expedia and Priceline.

Ctrip.com International Ltd.disclosed the plan in itssecond-quarter results announcementthat showed slowing revenue growth as its core China-based business faces growing competition from strongly-backed rivals including Meituan Dianping, China's leading online-to-offline services provider, and Fliggy, which is owned by e-commerce giant Alibaba.
Trip.com is Ctrip's main portal targeting travelers based outside of China, offering services to more than 20 markets. It also owns the online travel search site Skyscanner, which it bought in 2016 for up to 1.4 billion pounds ($1.7 billion)
"The new name reflects the services and products we provide, and can be easily remembered by global users," said Ctrip Chairman James Liang, speaking of the proposed name change. "In October, we will celebrate the 20th anniversary. Over the next decade, we will strive to become one of the most innovative and respected companies in the global travel industry."
Ctrip's international revenue, which includes purchases from both outbound Chinese tourists and overseas-based tourists using Trip.com and Skyscanner, now accounts for over 35% of Ctrip's total revenue, said CEO Jane Sun on a conference call to discuss the company's results, including the name change and international push. Chinese outbound travel accounts for the majority of that, between 20% and 25%, while Trip.com and Skyscanner provide the remainder, she said.
"We expect this to become 40% to 50% in the next three-to-five full years," she said on the call, referring to the total international revenue contribution.
Despite Ctrip's big hopes for the international market, its international sales are still a highly money-losing operation. The company lost about 2.7 billion yuan ($379 million) before income tax expenses from its foreign components in 2018, which includes its interests in overseas entities, according to its latest annual report. By comparison its older domestic business posted a pre-tax profit of about 4.7 billion yuan last year.
The company is already profitable in Hong Kong, where it has a longer operating history, and is close to breaking even in other nearby markets like South Korea and the Japan, according to Sun. "But again, for the Trip.com, we are still in the very early stage of expanding our market share in (the) outside world," she said. "So, we are still expecting some investment in the — not only the marketing, but more importantly, in the product development side to make sure that we have the best product to serve the local market."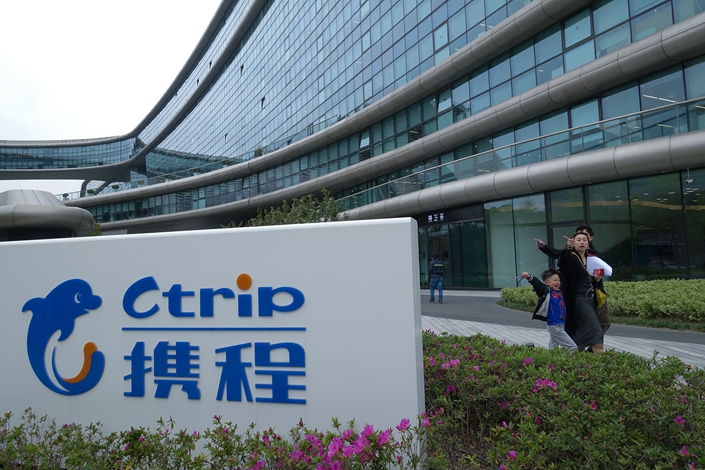 Ctrip headquarters in Shanghai, April 13, 2018. Photo: VCG
Ctrip announced the name change and discussed its international expansionas China's slowing economy and competition create a drag on its overall revenue, which has slowed gradually through the year. Its revenue grew 19% in the second quarter to 8.7 billion yuan, and it forecast that growth rate would drop to between 10% and 15% in the third quarter. Both levels are below the 21% growth that Ctrip reported in the first quarter of this year.
The company posted a net loss in the second quarter due to investments unrelated to its core business. But its operating profit, which reflects just the performance of its core operations, grew 84% to 1.3 billion yuan.
Media Contact
Caixin Reporter: Yang Ge
Email: geyang@caixin.com
Twitter: @youngchinabiz